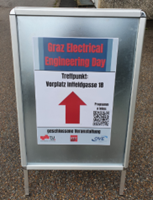 On September 26th and 27th 2022, the Electrical Engineering Day took place at Graz University of Technology. On each of these days, more than hundred pupils in their final years at secondary school visited the Faculty of Electrical and Information Engineering to get an idea of the teaching and research activities at a technical university.
Several institutes were involved in the event and they presented experiments, technical equipment, and research highlights. The Institute of Microwave and Photonic Engineering (IHF) showcased its anechoic chamber where already the antenna patterns of nanosatellites have been evaluated in the past. Moreover, institute staff members demonstrated RF simulations and measurement devices. In addition, also results of the TESLA project were presented: additively manufactured RF filter components were contrasted with CNC milled ones. A microscope brought the fine details of the samples to light, revealing the precision of state-of-the-art fabrication technologies.
Witnessing the pupil's interest in the presentations and in the display items, it can be said that the purpose of the event, to attract attention for electrical engineering subjects and make prospective students aware of the varied study program at a technical university, was entirely fulfilled.